Every nation has its own complexities and specific rules. They consider the souvenirs of each country as a symbol of its culture, customs, traditions, and even beliefs. In Iran, buying souvenirs for tourists is one of the most beautiful parts of travelling to different cities and villages in this country. Iranian souvenirs are not limited to one or two items in each city or region. When you travel to any province, you can find delicious local foods alongside beautiful and eye-catching handicrafts unique to that region. In this article from Kental Travel, we intend to introduce the best and most popular Iranian souvenirs from the perspective of foreign tourists.
Handicrafts of Iran
Iran, with a strong background in culture and civilization, has artistic artifacts from past centuries. Iran is known worldwide as one of the prominent areas exporting artistic works and handicrafts, which reflect the culture of Iranian ethnic groups. In this article, we have approached the most important types of Iranian handicrafts and tried to introduce some of the best and most famous Iranian handicrafts souvenirs.
Khatam Kari
In the art of Khatam Kari, regular polygons in different colors are used. These polygons, based on geometric patterns (usually triangles), are placed next to each other in a mosaic-like manner. Finally, a beautiful and eye-catching regular design is created. The triangles used in Khatam are usually made of wood, metal, or animal bones. Some Khatam Kari works also use gold and silver pieces and elephant ivory.
Most experts consider the city of Shiraz as the birthplace and origin of this art. However, due to the interest and respect that the Safavid Kings had for this art, Khatam Kari has also flourished in Isfahan, like many other arts, and has been well received.
Today, Iran is the most important center for producing and distributing Khatam Kari products due to its long history and high sophistication. The most prominent contemporary Khatam Kari work is the Khatam Table, which won the gold medal at the 1958 Brussels Exhibition.
Minakari (Enamelwork)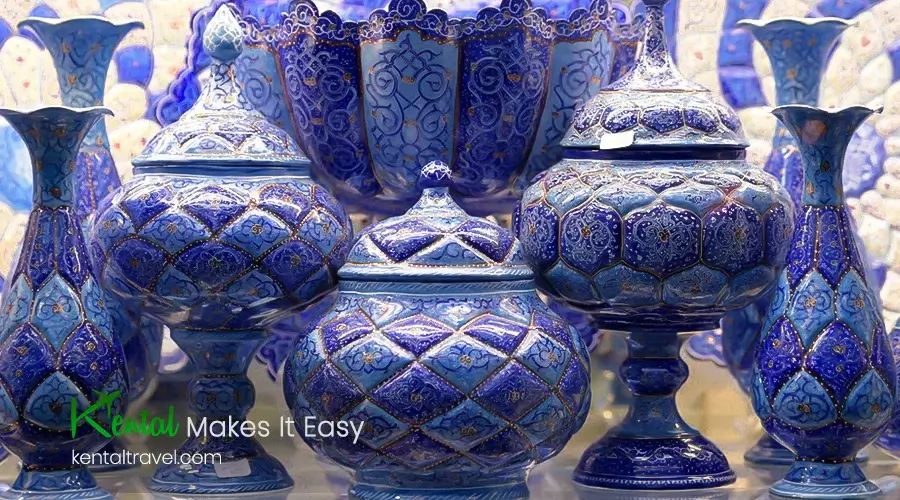 Minakari is one of the most magnificent handicrafts in Iran. These crafts have been produced for over 5,000 years and involve painting and designing the surface of metals such as gold, silver, and copper by applying vibrant glazes and then firing them up in a kiln. Due to their material value, they were once exclusively owned by kings and the nobility. However, they are now among the most valuable handicrafts in Iran and have many buyers. Isfahan has become the center of this art for years, and many artists work in small and large workshops in this city.
Pottery
Pottery vessels or sculptures made of clay are among the most important Iranian souvenirs and handicrafts. Iran has emerged as a major player in Western Asia's pottery industry. Today, Pottery thrives in several Iranian cities, such as Laljin in Hamedan, Meybod in Yazd, Shahreza in Isfahan, Semnan, and Gilan, and many tourists eagerly buy pottery vessels as souvenirs from these cities.
Turquoise Inlay (Firoozeh Koobi)
Firoozeh Koobi is the art of setting small pieces of turquoise stone in a mosaic pattern on the surface of containers, jewelry, and decorative objects made of copper, brass, silver, or bronze. The art of Firoozeh Koobi is one of the emerging handicrafts in Iran, with a history of about 60 years. Currently, the craft of Firoozeh Koobi is prevalent only in Isfahan.
Ghalamzani (Engraving)
Ghalamzani is one of the ancient handicrafts of Iran, belonging to the metalworking group. Ghalamzani is the art of decorating and engraving various designs and patterns on metal objects, especially copper, gold, silver, and bronze, using pen and hammer strikes. Currently, Isfahan is the most important center for producing and engraving copper and bronze.
Silverware and Jewelry
Silverware and jewelry have deep roots in the history and culture of Iran. Historical evidence suggests that silver was recognized as an important and precious metal in Iran since the Achaemenid era (around 2500 years ago) and was used to produce vessels and jewelry. Throughout history, Iran has been a prominent center for producing and exporting jewelry and silverware.
Silverware often includes geometric patterns, flowers, animals, and other motifs representing Iranian art and culture. Iranian jewelry is also renowned and uses various precious and semi-precious stones. Jewelry includes rings, necklaces, bracelets, and earrings. Iranian jewelry designs also incorporate motifs such as magnificent patterns, animals, and geometric patterns.
These vessels and jewelry demonstrate the abilities of Iranian artists and artisans to create beautiful and valuable works and are famous Iranian souvenirs.
Persian Rugs and Carpets
Persian rugs or Iranian carpets are Iran's most famous and important handicrafts, with a history dating back to the Achaemenid period. Iranian handmade carpets have always had a unique and global reputation, and their buying and selling are now carried out internationally. Most Iranian carpets are usually made of wool, but the best and most expensive ones are made of silk. Iranian carpets are woven in various designs and colors, and among the most famous ones are Shah Abbas, Islimi, Boteh Jegheh, Tree Design, Ili and Nomadic, and geometric patterns. Iranian rugs are one of the best souvenirs to buy in Iran.
Food Souvenirs of Iran
The most exciting part of any trip is the local food and delicacies of the place. As you know, Iran has various cities where you can find many delicious food souvenirs. In the following, we will introduce the most famous Iranian food souvenirs.
Pistachio
Pistachios have various nutrients, minerals, unsaturated fats, and more. Why Iranian Pistachio is famous and widely exported to all parts of the world? Pistachio quality depends on the climate, and due to Iran's weather, the highest quality pistachios with the most delicious taste and appearance can be found here, and you can buy them in Iran as souvenirs. Pistachios are cultivated and produced in various cities in Iran, with Kerman province being one of the most important ones.
Baklava
Although Baklava originated in Turkey, it is among the most popular pastries in Iran, Azerbaijan, the Middle East, and some Arab countries. In Iran, you can find Baklava mostly in pastry shops in cities like Yazd, Tabriz, Qazvin, Ardabil, and Kashan. This delicious pastry is also highly popular among foreign tourists.
Qottab
Yazd is famous for various pastries, and one of the sweet and famous Iran and Yazd souvenirs is Qottab. It is a delicious treat made from flour, powdered sugar, vegetable oil, and cardamom and filled with almonds or walnut. Qottab is one of the oldest Iranian sweets and is popular in Kerman.
Saffron (Red Gold)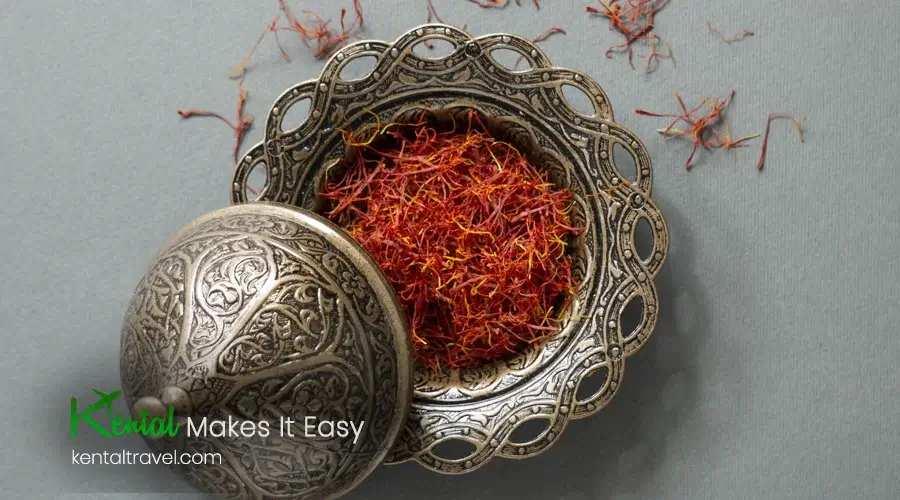 Saffron is a dominant species in Iranian cuisine and a famous Iranian souvenir among foreign tourists. Iran is currently the world's largest producer of this precious spice, and 94% of the world's saffron is cultivated in Iran, particularly in the eastern region of Khorasan. Mashhad is the best place for Saffron souvenir shopping in Iran.
Sohan
This traditional pastry is mainly produced in Qom, which is why it is sometimes called "Sohan Qom." Sohan Qom comes in various shapes, flavours, and qualities and is distributed throughout the country so that you can find it in most cities, including Tehran.
Gaz
Gaz is one of the most delicious souvenirs of Iran. Although the most famous type is produced in Isfahan, you can also find different varieties of Gaz in cities like Kerman, Yazd, and more. Gaz is made from a combination of rosewater, Pistachio, egg whites, sugar, and more, resulting in a highly aromatic and flavorful treat attracting many foreign tourists to visit Isfahan and try/buy it.
Tea
Iran is a heavyweight in the world of tea production, and Iranian Tea is known as one of the best types of Tea and popular Iranian souvenirs. Iranian Tea is renowned globally as one of the finest teas for its top-notch quality and pleasant flavour. The most famous tea-producing regions in Iran are Gilan and Mazandaran.
Caviar
Iran, with its 740km Caspian Sea coastline, was the largest caviar producer in the world during the initial years of production. Iranian Caviar is made from various sturgeon species, including the Sevruga, Beluga, and Osciètre. Mazandaran province holds a considerable position in caviar production.
Traditionally-Made Clothes
Traditional clothes and fabrics reflect Iran's cultural and historical values and showcase the country's diversity of cultures and ethnicities. Iranian traditional clothes are very diverse and vary based on regions and ethnicities. Traditionally made clothes are a good choice of Iranian souvenirs for your friends and family.
Giveh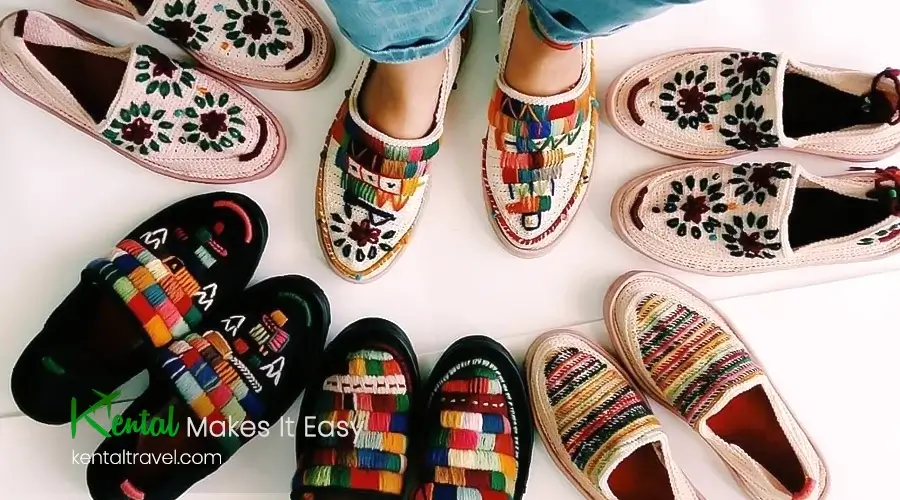 Giveh is a lightweight and traditional shoe commonly worn in mountainous regions of Kermanshah province. These shoes are especially suitable for farmers and livestock breeders because they are made entirely of cotton or silk with a leather sole and are lightweight, comfortable, durable, and affordable. It is recommended to wear Giveh during hot summer days. Giveh-making is widespread in Fars, Isfahan, Chaharmahal and Bakhtiari, Kermanshah, and Zanjan.
Termeh
Termeh is a handwoven silk fabric in which golden threads are used. It is produced in Yazd and can be found in various products such as tablecloths, wallets, shoes, etc. It is one of the most popular Iranian souvenirs. The special threads and patterns may be slightly more expensive, but they are one of Iran's famous and attractive things to buy.
FAQs about Best Iranian souvenirs
What are the Best Iranian Souvenirs to Buy?
Some top Iranian souvenirs are Persian carpets, pottery, miniature paintings, saffron, textiles, and tea sets. They showcase Iran's culture and make great mementos.
What are traditional Iranian products?
Traditional Iranian products include Persian rugs, saffron, pistachios, caviar, rose water, traditional handicrafts like Mina-Kari, Khatam, and miniatures, as well as items like pomegranates and dates.
What is best gift from Iran?
One of the best gifts from Iran is saffron, renowned for its quality and flavor, often presented in beautifully crafted packaging.